A Man Embraces The Body Of His Wife Who Died In An Accident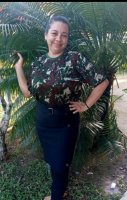 A woman identified as A T d O, 46, died instantly and her husband was seriously injured by a car at high speed and out of control that invaded the bus stop on Avenida Coronel Teixeira, close to the Restauração Church, in the Midwest Zone of Manaus, Brazil. The accident happened around 6:40 am on Monday, the 26th, and the man was taken by a team from the Mobile Emergency Care Service (Samu) to the Hospital and Emergency Room on August 28, with fractures and other serious injuries.
The car ran over the woman's body, causing abdominal crushing and death was instantaneous according to witnesses who were also waiting for the bus to pass and escaped being hit. According to preliminary information, the driver of the vehicle that caused the collisions fled the scene without helping the victims and was being sought by police teams from the 19th Cicom. After the criminal investigation, the Instituto Médico Legal (IML) team removed A's body and there is no further information about the state of her husband, who would have suffered head trauma, according to members of the Samu team. An extremely shocking moment that happened at the same place as the violent accident was when A's husband, even injured and as bloodied as she was, clung to his wife's body, crying a lot and screaming "Don't leave me, don't leave me, my love".
The pedestrian accidents, with one fatal victim and a second person seriously injured, will be investigated by the Specialized Traffic Accident Police Station (DEAT), which must identify the perpetrator to respond in court for the crime provided for in the traffic law. - The driver of the car was the son of a partner in a local car rental business which was graffited after being identified. Allegedly he was drunk at the time of the incident
Information
Users of Guest are not allowed to comment this publication.