An Elderly Man Dies Under The Wheel Of A Truck, His Son Is Already Dead
An accident that occurred this morning, June 5, on a road in the municipality of El Playón, Santander, took the lives of two people.
J.F.A.M. and J.F.A.O, father and son, who were riding a red motorcycle, were killed after being run over by a cargo truck with license plates SBK-644. The event occurred around 10:20am local time.
"The motorcycle driver entered the national highway and the cargo vehicle picked them up. We didn't know what to do in the face of this grave tragedy," said a witness to the accident on the road.
The collision immediately took the life of J.F. Jr., apparently, who would be the driver. J.F. Sr., was trapped in the rear tires of the cargo vehicle and suffered for several minutes until he died.
Witnesses found themselves helpless as they could not do anything to save the life of the older man, who insistently asked for help. He suffered severe leg and hip injuries.
At this time, the Transit and Transportation Section of the Santander Police is carrying out the procedures for the removal of the bodies, as well as the respective sketch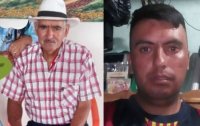 Information
Users of Guest are not allowed to comment this publication.