Burnt Body Of Missing 26-Year-old Teacher Found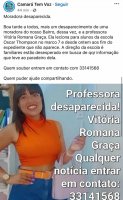 Google translate
The Civil Police found the body of teacher Vitória Romana Graça, a 26-year-old girl who was kidnapped, charred in the Cavalo de Aço community, in Senador Camará, West Zone of Rio. The neighborhood is where the victim's ex-girlfriend lives.
Investigators from the 35th DP (Campo Grande), after intelligence work, concluded that the victim's ex-partner was involved with her disappearance. Upon arriving at the scene, the police arrested the victim's ex-mother-in-law, Paula Custódio Vasconcelos, and her underage daughter, who was the victim's ex-girlfriend. Both tried to flee after arriving at the police.
After forensic work, the police concluded that the charred body was really Vitória Graça. According to the police, the victim was lured to the community by his ex-girlfriend, where his checking account was emptied. Vitória's family even received a ransom demand.
Paula Custódio Vasconcelos, according to the Civil Police, already had an open arrest warrant for the crime of aggravated theft.
Information
Users of Guest are not allowed to comment this publication.