Former Intelligence Officer Intentionally Hit To Death By A Car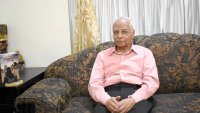 An ex-Intelligence Bureau officer died after a speeding car stuck him while he was on his routine evening walk at the University campus, but the city police suspects it as a murder.
"Initially we felt it was a case of an accident, but after screening the CCTV footage, we came to a conclusion that it was a planned murder," Police told reporters. The incident took place on Friday evening. CCTV footage depicts a speeding car driven on a narrow lane on which the 82-year-old deceased R.K K. was taking his routine evening walk. As the car approaches near him the driver takes a sharp turn and hits him and escapes from the spot. The narrow lane is rarely used by car drivers. It appears that the accused was tracking him and the car did not have a number plate on it, police said.
Three teams have been formed to trace the accused and investigation into the case is underway to ascertain the motive behind the killing, they said. The victim had retired 23 years ago after serving in the Intelligence Bureau for over three decades. The victim authored 3 books after his retirement. One of them '…and yet God smiles' is a fiction narrating the tale of a family over its five generations. His other two books, however, were more discussed than this one. He wrote a book titled 'Sin of National Conscience' in which he went on to describe a sizzling account of intelligence operations.
His third book is titled 'Facets of Terrorism in India'. This book was launched in 2019 at the hands of Nirmala Sitharaman who was then Defence Minister. In the book launch ceremony, she said, "There are two types of terrorism in the country today — one is the Red Corridor and another Jihadi Terrorism. Both these types have taken deep roots here and if it has to be uprooted, then every citizen in the country must join hands with the Central Government
Information
Users of Guest are not allowed to comment this publication.