Execution In The Forest Of A Kidnapped Young Man. Brazil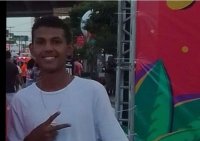 Poliana Oliveira, mother of 14-year-old E.R.d.C, cried with sadness when she remembered that she saw her son being murdered on video .Missing since Tuesday (20), the boy would have been kidnapped in the Buenos Aires neighborhood, North Zone of Teresina , and murdered. However, the body has not yet been found.
According to the mother, the boy left the house with friends on Tuesday to play ball. Friends said that three men took the young man and he has not been seen since. When he was taken, he was on the soccer field in the Buenos Aires neighborhood. The family lives in the nearby Água Mineral neighborhood.
The following day, a video circulated on WhatsApp groups in which the boy appeared asking not to be killed, but ended up being shot twice in the head. The mother watched the video.
In the images, the boy appears sitting on the ground in a region surrounded by bush. Someone films while another person holds a gun pointed at him. He asks not to be killed, but he is hit with several shots and falls to the ground.
The people who would have taken him have not yet been identified. The case was being investigated by the Police Station for the Protection of Children and Adolescents. After the release of the video, the case is now under the responsibility of the Department of Homicide and Personal Protection
​
https://g1.globo.com/google/amp/pi/piaui/noticia/2023/06/22/mae-recebe-video-do-filho-de-14-anos-sendo-assassinado-e-tenta-encontrar-corpo-em-teresina-saiu-pra-jogar-bola-e-nao-voltou-mais.ghtml
​​​
Information
Users of Guest are not allowed to comment this publication.