Surveillance Camera Filmed The Attack And Murder Of A Mexican Businessman
Celaya, Guanajuato, Mexico.
The Celay businessman M.P.G.D, owner of one of the public transport concessions of Celaya and one of the partners of Omnibus Urbanos y Suburbanos, was shot dead when he opposed an attempted kidnapping in the Residencial Celaya neighborhood.
Allegedly those responsible were stalking the businessman during his daily routine; they waited for the most opportune moment to deprive him of his freedom.
The events occurred around 8:30 a.m. this Friday, when 911 was informed of a person shot a few meters from the intersection with Mutualismo Avenue, so security and health elements went to the place.
Elements of the National Guard and the Mexican Army were the first to arrive and found a badly injured man lying on the public road, and, next to him, at least a dozen shells.
Minutes later an ambulance arrived from the Ministry of Citizen Security of Celaya, but when the paramedics checked him they confirmed that he had received several shots in the chest, abdomen, neck and head, injuries that ended his life almost instantly.
A neighbor said that, as usual, he arrived at a self-service store to buy a coffee before going to work, got out of his Suburban type van, armored, which was left in one of the parking spaces, and, when he was going to enter the establishment he was intercepted by two men who wore a cap, a kind of hood and dark clothes, who at gun
Faced with the desperation of what could happen, he pointed out that the businessman tried to oppose and struggled with the criminals, who, when discovered by the man's screams, took his weapons and shot him at close range on more than 10 occasions, and was hit by at least 9 bullets.
When he fell to the floor, the alleged plagiarists boarded the van in which they intended to commit the kidnapping and fled at full speed in the direction of Constituyentes Avenue
https://lasillarota.com/guanajuato/estado/2023/6/16/asesinan-en-intento-de-secuestro-empresario-de-transporte-de-celaya-433737.html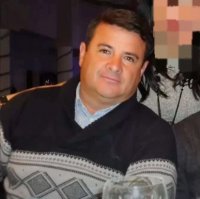 Information
Users of Guest are not allowed to comment this publication.