Military Man And Woman Shot In Their Car
A military woman B.J.G.Z, 22 and a military man, D.A.T.C, 22, were murdered yesterday in Ecuador when they were traveling aboard a pick-up truck with other friends.
According to the survivors, they were intercepted by another vehicle where 4 subjects were traveling in. The armed men proceeded to shoot them repeatedly.
As a result of the incident, the driver of the vehicle ended up crashing into a public lighting pole.
According to the residents, 6 gunshots were heard, so when they went outside they saw the crashed truck
The survivors, who according to the Police are soldiers, detailed that minutes before they had been eating in a restaurant and arrived for the town's festivities.
So far the National Police has not given details of what happened. The bodies of the young people were taken to the morgue for autopsy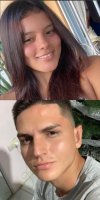 Information
Users of Guest are not allowed to comment this publication.