With A Full Swing Stuck An Axe In The Head Of A Quietly Sitting Dude. Tulsa, USA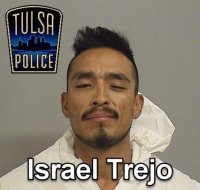 Tulsa Police arrested a man accused of hitting another man in the head with an axe.
 Officers said it happened in an apartment near 12th and Houston this past Monday evening. Officers said Israel Trejo was at the apartment to buy an axe and the 22-year-old victim, J.P. was sitting on the couch eating.
Police arrested Trejo for assault with a dangerous weapon. "Our victim didn't make himself a victim by any means, you know, or put himself -- he was just eating dinner. Very bizarre terrible incident," said Officer Danny Bean, Tulsa Police Department, Public Information Officer. Officers said Trejo was inside the apartment to buy an axe. "He's holding the axe, he's looking at it, he's examining it for a couple of minutes," said Bean. Police said Trejo was swinging the axe when it hit 'J' in the head. The two men hadn't even spoken. "He never even said a word to our victim. He's sitting down and eating, and he takes this axe and fully swings it strokes our victim right in the top of his head and buries the axe in his head," said Bean. Officers said Trejo took off, but he was later caught near 6th and Peoria. "We were able to get him as fast as we could and get our victim some medical attention as fast as we could too," said Bean.
Police said the victim was critically injured and not expected to survive. "Something like this is tragic. You know it's hard for the family to deal with. It's hard for family and friends to deal with," said Bean. News On 6 spoke to a neighbor off camera who said 'J' is a nice young man who was looking forward to his future.
If he does not survive, the charge will be upgraded
Information
Users of Guest are not allowed to comment this publication.