Millionaire's Dismembered Body Found In Argentina
Police have launched a murder investigation after the dismembered remains of missing millionaire F.P.A., 41, were discovered by a group of children in Argentina over the weekend.
The grisly case came to light after the kids found a red suitcase filled with body parts while playing by a stream in the town of Ingeniero Budge, Buenos Aires Province, on Sunday.
The children's parents notified the Buenos Aires police, who inspected the package and reportedly found the victim's legs and forearm inside, discovering another whole arm in the stream.
On Wednesday, authorities discovered the missing head and torso. The body parts were cleanly amputated, suggesting the work of a professional, local media reported. A subsequent autopsy revealed that the victim had been shot three times before the dismemberment.
F. had accumulated millions renting luxury vehicles and selling cryptocurrency. The influencer, who lived in Barcelona, Spain, had reportedly been staying in Argentina for a week prior to his murder.
Police have arrested one suspect in connection with F.'s death. And while the motive behind the murder remains unclear, authorities suspect that the influencer was killed over his numerous debts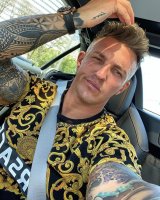 Information
Users of Guest are not allowed to comment this publication.