The Asians Are Fucking Crazy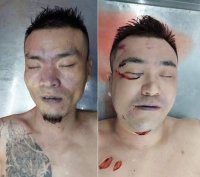 This time, the Manila police dispatched the police faster, almost at a speed. A few minutes later, several police officers with guns arrived at the scene. First, they planned to separate two groups of people to control the scene. Another policeman picked up his mobile phone and recorded video for evidence. But Ayu has already locked Zhang Xiaolong, how can he let go? Just partition Ah Sheng to the other side of the table. Several policemen repeatedly said "Don't shoot, don't shoot!" (No gun! No gun!) They wanted to control the scene, but what they didn't expect was that the arrival of the police aroused blood on both sides.
During the entanglement, Ah Sheng pulled out the pistol from the lower waist (at the 18th second of the video). Ah Shengliang's behavior was very unwise. Someone on Ah Yu's side had locked him with a gun for a long time. The moment he saw him draw the gun, the gunshot sounded. Xiao Bian counted, the first series of gunshots rang eight or nine times. The main target of the bullet was Ah Sheng, who was holding a gun, and he was shot to the end immediately in the process. After the gunshots rang out, the scene became very chaotic, but it seemed that no one was shot by the police who came, and some of the police seemed to be wearing body armor.
During this process, he tightly grabbed a man with a flat head, a black jacket, white underwear and gray plaid pants (hereinafter referred to as plaid trousers) beside Zhang Xiaolong's body, and stabbed Zhang Xiaolong several times in a frenzy; After he got up, the man was still riding on him and stabbing. It can be seen that this person wants Zhang Xiaolong's life wholeheartedly. At this time, the person who shot probably found that Ah Sheng was not dead, and shot him again (at the 28th second of the video)
Information
Users of Guest are not allowed to comment this publication.