His Last Dance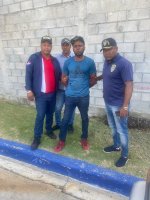 Another act of violence, where a man took the life of another for reasons of passion, occurred in the municipality of La Cabirma in San Cristobal.
According to the information that reaches us, the man identified as B was in an entertainment center dancing with a woman supposedly named A.
It happens that after leaving the entertainment center, somewhere, B was intercepted by a certain P, who gave him a total of 18 thrusts that took his life.
It is said that P was the old sentimental partner of the woman with whom B was. Others tell us that the woman was romantically involved with both of them at the same time.
After committing the act, the named P fled, and was later arrested by the authorities
Information
Users of Guest are not allowed to comment this publication.