A Tiktoker Teenager, With Many Followers, Was Hit By The Driver Of A Banana Bus While He Was Standing In Front Of His House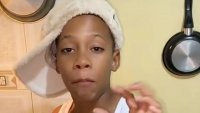 The father of the 15-year-old teenager, denies that the boy fell from a roof when playing with a kite, and stated that he was flying a kite standing on the street when he was run over by a man identified as M. J. A. R, who took the vehicle without permission from the owner.
J. F, known as "Yepo", on the Tik tok social network, a platform to which he uploaded funny content with his sister, was much loved in the neighborhood.
"Yepo" received a Christian burial last Wednesday, while the person responsible for his death is under the power of the authorities
Information
Users of Guest are not allowed to comment this publication.