Dropped Cargo From An Overturned Truck Crane Crushed The Crane Operator
Taiwan
 J. N. was driving a truck-mounted crane with a large number of scaffolds, and he used the remote control to operate the crane standing next to his truck. Although the crane had put down the outrigger support beams, it did not use the outwardly extending and fixed pillars as required, which caused the crane's center of gravity to suddenly become unstable and tilted.
The truck overturned after the crane made a noise before it tilted. As the tilt continued, J. N. tried to support the crane with his hands, but the heavy weight of the crane full of scaffolding made it difficult for him.
Although he let go and tried to escape, he was immediately caught by a large number of scaffolding crushing him to death.
After receiving the report, the Labor Inspection Division conducted an investigation, and the preliminary judgment was that when using a mobile crane with an outreach support, the outreach support was not extended to the maximum limit position, which would violate Article 6, Item 1 of the Occupational Safety and Health Law.
The workplace was ordered to stop work, and a fine of NT$30,000 to NT$300,000 will be imposed in accordance with the law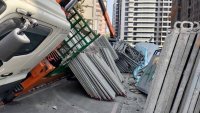 Information
Users of Guest are not allowed to comment this publication.