Electrician Electrocuted When He Climbed A Pole And Shorted The Wires. Russia
In Shakhty, Rostov Oblast, a 46-year-old electrician, V.L., who had worked on the power grid for two decades, was burned alive during the repair of power lines.
According to sources, V. and a colleague climbed onto the pole using an aluminium ladder to fix some broken wires. Reportedly, V. mixed up the connection lines and accidentally snagged a cable, leading to his demise.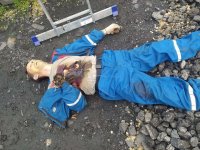 Information
Users of Guest are not allowed to comment this publication.