The Jerk Ran Towards The Cops Waving Two Kitchen Knives And That's Why He Took Six Bullets
On the afternoon of Nov. 25, Joseph Perry called 911 to say his stepson Denetdele was out of control and had been drinking alcohol. It was the day after Thanksgiving. Perry and Denetdele's mother, Mavis Denetdele-Perry, had previously told the Journal that they had called police because in the past when their son was upset officers were able to calm him down. They were devastated by the outcome of the call. On the audio recording of the call, Perry said Denetdele was out of control and he had not hit anybody but he had "got pretty close."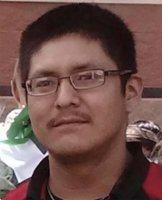 Hartsock said Denetdele-Perry spent 20 minutes on the phone with the dispatcher and he played clips in which Denetdele and Perry could be heard in the background. Officers Arniel Sampang, Christopher Taddoni and Jacob Muñoz arrived at the house in the 2200 block of Odessa SW, near Gibson and Messina, and Perry came outside to talk to them. Video shows that as the officers were talking to Perry, Denetdele came out of the house, holding two knives. The officers ordered him to drop the knives but he did not and instead jogged toward them.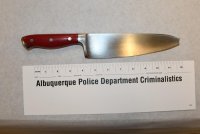 "Officer Sampang fired a 40mm sponge less-than-lethal round from an approximate distance of 21 feet — which did hit him but didn't cause Blaine to surrender," Hartsock said. "The officers continued their commands and began to retreat into the street. When Blaine was approximately 13 feet away from them and still moving towards them armed with knives an officer-involved shooting occurred." The whole encounter lasted less than a minute. Denetdele died at the scene. Sampang has been with APD since 2015, Taddoni since 2021 and Muñoz since 2020. None had been involved in any other shootings. All three are with the Southwest Area Command and are in the process of returning to work. Photos from inside the home show damage from a knife to doors and the TV. Medina said it would not have been an appropriate for the Albuquerque Community Safety department to respond to the call since Denetdele was armed with a knife.  He said a mobile crisis team — comprised of an officer and a clinician was requested but none was available.
When Denetdele's parents spoke with the Journal a couple of weeks ago they were upset that the officers had not gone into the house to speak with their son. In response to questions about their concerns, Medina said the officers were in the process of communicating with the family when everything unfolded. "At no point in time would I want officers immediately to charge into a house because, had our officers charged into the house immediately and ended up shooting individuals, the question that would be presented to me right now is 'why didn't the officers slow things down?'" Medina said
Information
Users of Guest are not allowed to comment this publication.