A Woman Stabbed Her Boyfriend In The Street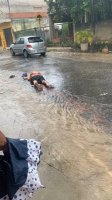 Resplendor, Minas Gerais state, Brazil
According to information, a woman and a man were in bars in the area near the square and São Pedro street, near the scene of the crime. They entered a supermarket where the woman took a bottle of booze and a knife, which she hid in her clothes. On Avenida Olegário Maciel, the woman attacked the victim and stabbed him.
The man is 66-year-old J.T.d.O, and the woman is 48-year-old R.G.A..
The woman was arrested and taken to the Civil Police Station in Valadares. According to information, they had been living together for some time
Information
Users of Guest are not allowed to comment this publication.