Two Women, Aged 22 And 26, Were Stabbed To Death In A Mall. Hong Kong
Two women were stabbed to death in a shocking, seemingly random knife rampage at a Hong Kong shopping centre on Friday, before the man who attacked them was subdued and arrested when police arrived. 
The assailant and the victims did not appear to know each other, according to a senior superintendent from police's Kowloon East regional headquarters, who said their preliminary investigation had found "no concrete evidence" suggesting the two dead women had any ties to the 39-year-old jobless man before the attack.
Police said the two women, aged 22 and 26, were unconscious when they were taken to United Christian Hospital, where they succumbed to their injuries at 6.06pm and 6.47pm, respectively. The women were friends, police said. The woman initially attacked was stabbed more than 25 times. The second woman pushed away and kicked the man and tried to drag her friend to safety, but the knifeman ultimately stabbed her multiple times as well.
The suspect did not attempt to escape and was arrested.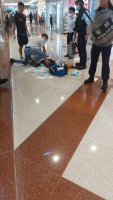 Information
Users of Guest are not allowed to comment this publication.