An Old Man Just Shot 2 Climate Activists Who Were Blocking A Highway In Panama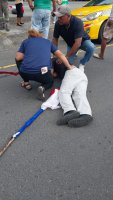 Kenneth Darlington, 77, a lawyer and professor who holds dual citizenship in the US and Panama, has been arrested after shooting two environmental protesters blocking a Panamanian highway.
One of the protesters who was shot died on the scene. The other died in the hospital.
The shooting occurred in the third week of protests over a large mining contract of Panamanian government and Canadian company to operate the region's largest pit copper mine.
Apparently, the protesters were blocking roads with tires and creating small fires. The roadblocks have caused up to $80 million in daily losses to businesses and have shuttered schools nationwide for more than a week.
Information
Users of Guest are not allowed to comment this publication.