A Police Officer Tried To Prevent A Robbery In The Market But Was Shot Dead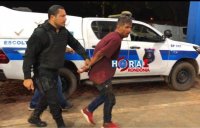 According to camera footage from the market's internal security circuit, it shows two bandits arriving and one of them armed with a revolver announces the theft. At that moment the police officer witnesses the crime and reacts, and ends up exchanging shots with the criminal, where the Military ends up being shot in the chest area and falls in agony and in the sequence the suspect who appears to be shot leaves on the run. A nearby Police team heard the shooting and soon spotted the suspect trying to flee and ended up being arrested.
A team from the Tactical Force soon arrived at the scene and helped the victim, taking the prisoners inside the vehicle to the emergency room at the João Paulo II hospital. A market customer was also shot and received first aid from a Samu team and was taken to the JPII emergency room.The criminal was armed with a 38 caliber revolver and was also taken to the hospital where he was under armed escort because he was also shot. The policemen took steps to try to locate the other suspect, but they did not obtain results and after some time the policemen were informed that the military policeman could not resist the seriousness of the wound and died
Information
Users of Guest are not allowed to comment this publication.